Asthma Prevents Cavities?
Tooth decay and asthma are the two most common chronic childhood diseases, according to the CDC. Strangely, a study by the Indiana University School of Dentistry found that children with asthma tend to have fewer cavities than those who don't. The reason remains unknown.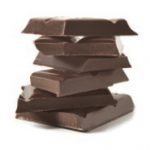 Good News for Chocoholics!
Researchers at Osaka University in Japan report that cocoa, the main ingredient in chocolate, appears to help reduce the bacteria that causes swollen gums and may also protect against tooth enamel erosion